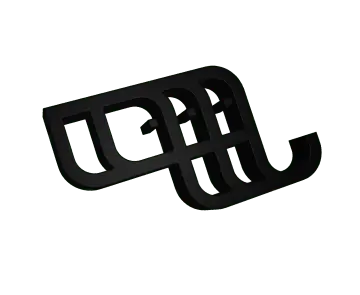 About

ElephantsLab
The most valuable human resource is the diversity of opinions and the ability to create something grand. We value intelligence and creativity the most, so all the steps are given to us quite simply.

ElephantsLab is a New Wave of Development
ElephantsLab is a research and product company providing a wide range of services in the development and support of blockchain technologies and platforms. We are not an open-source platform, so we create high-quality products that make us more efficient than other platforms. We have developed and constantly support many successful products, especially popular among users.
Our leaders inspire us
to do great things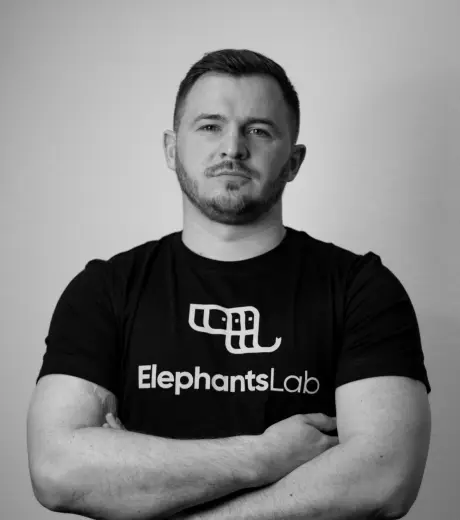 Oleksandr Bodnar
Co-founder & CEO ElephantsLab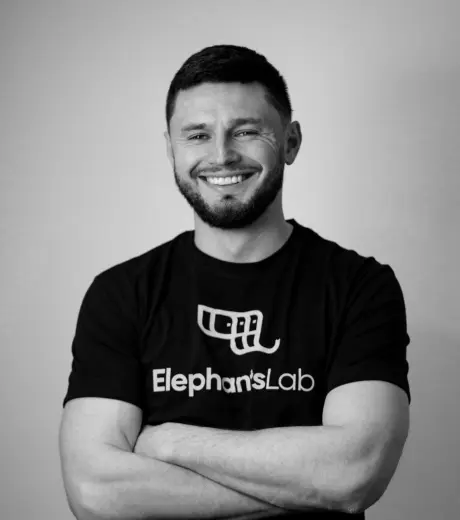 Anatolii Bilokon
Co-founder & CFO ElephantsLab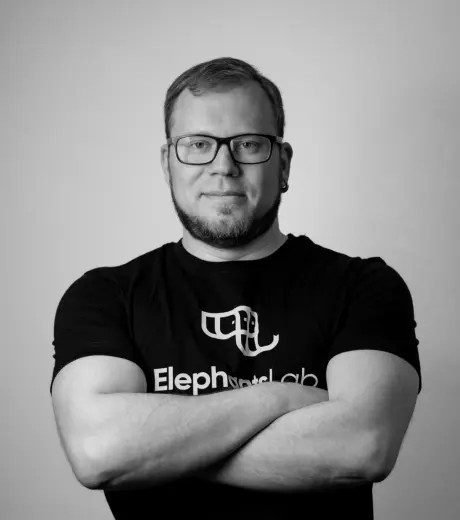 Dmytro Zarezenko
CTO ElephantsLab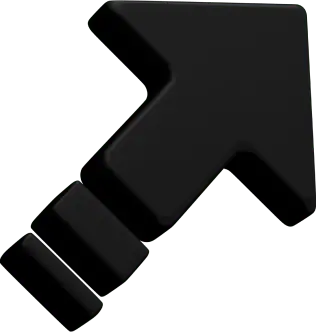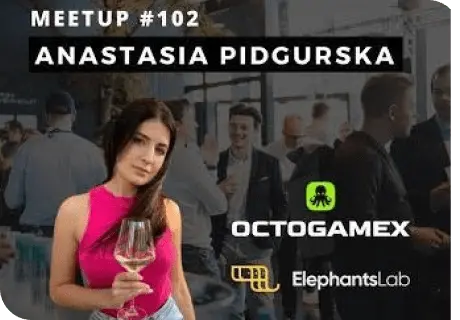 2022
Block&Wine
Our colleague and excellent speaker - Anastasia Pidgurskaya, held a presentation in Vienna. She shared information about novelties in the world of Gaming NFTs and spoke about one of ElephantsLab's successful projects - the Octogamex marketplace.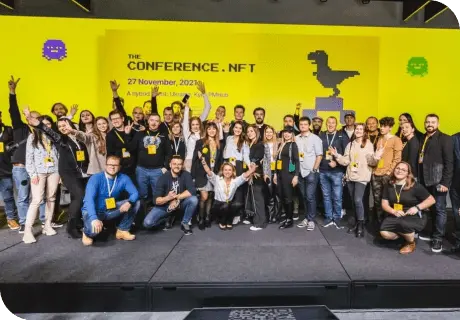 2021
The Conference.NFT
All cryptoenthusiasts know the importance of NFTs. ElephantsLab keeps up with the trend about the importance of NFTs. Therefore, we could not miss Conference.NFT. We collected a lot of useful insights and returned to create our amazing Octogamex Marketplace product.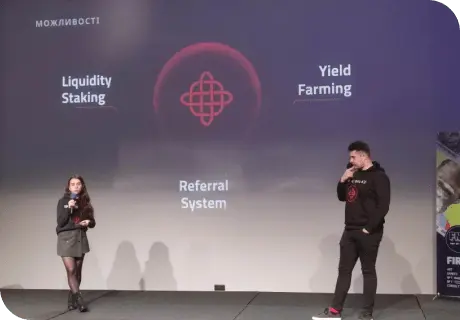 2021
ONERuDAO Meetup
And another great event that our ElephantsLab team attended. ONERuDAO Meetup is a great event where we talked about our current and future crypto news. Only positive emotions and valuable feedback.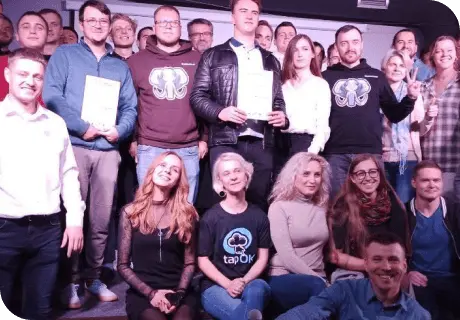 2021
Hackathon 1UP Start Up
One of our triumphs! The first, but by no means the last. ElephantsLab took 1UP Start-Up. Innovative ideas, and cool projects, that's what Hackathon is all about. We are always happy to take part in such events, of which there are many ahead!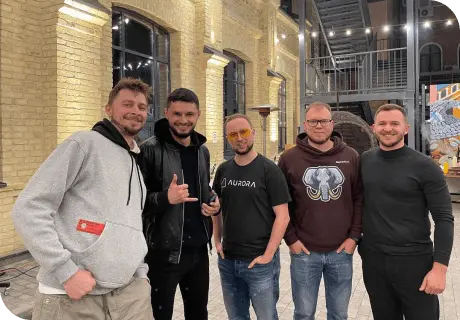 2021
Rainbow Bridge Meetup
And one more conference in Kyiv. This time, it was a kind of Rainbow Bridge Meetup. There we met with our friend, partner CEO of Hapi, and also met the founder of Aurora Blockchain.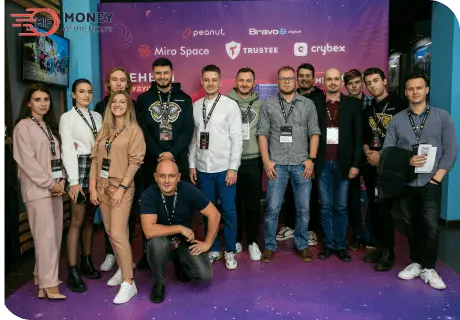 2021
Money of the Future
The next conference was not long in coming! The ElephantsLab team attended the exciting Money of the Future conference. It's given us a strong impetus to develop more unique products. The main topic of the conference was the discussion of cryptocurrency and its implementation in everyday life and legitimization both in Ukraine and in the world as a whole.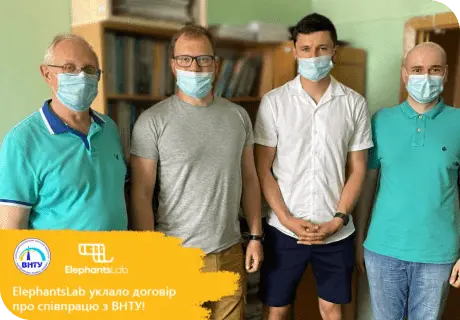 2021
Cooperation with VNTU
ElephantsLab once again proves its openness and commitment to creativity and ingenuity. We have signed an agreement with Vinnytsia National Technical University, which provides for close cooperation and demonstrates the company's contribution to the development of science and leading world technologies in Ukraine.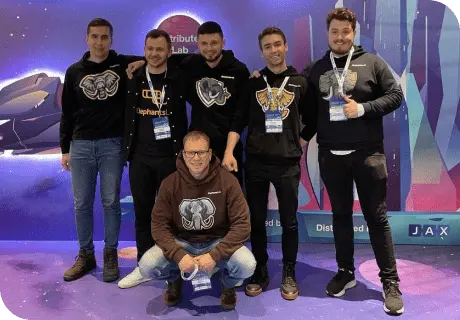 2020
BlokchainUA
The BlokchainUA conference has become the hallmark of ElephantsLab. One of the largest blockchain conferences in Eastern Europe. We established ourselves as a young and promising team with many ideas and steps to implement. Our laboratory has been replenished with new ingredients and formulas in the face of new partnerships and connections.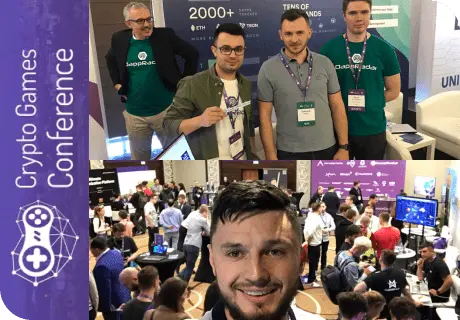 2019
Crypto Games Conference
The ElephantsLab team attended the conference in 2019, having received many positive emotions and new promising contacts. More than 1000 participants, 100 famous speakers, about 150 gaming brands, and more than 50 media companies from more than 30 countries were present at the Crypto Games Conference! It was the biggest event of 2019.